Driving Digital Strategy. A Guide to Reimagining Your Business
Autor: Sunil Gupta
Harvard Business Review Press, Boston, Massachusetts, 2018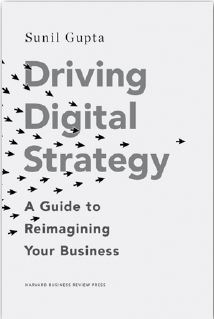 Por: Carlos Victor Costa
(ESIC Business & Marketing School)
RESEÑA
Driving Digital Strategy, by Sunil Gupta, the Edward W. Carter Professor of Business Administration at Harvard Business School presents a clear framework for companies looking for the benefits of using digital technology as levers for competitive advantage. It is the result of over a decade of Gupta´s research on the digital transformation occurred at Fortune 500 companies, thus it is an extremely practical guide, backed by the sound use of business trategic principles that characterize Harvard´s academics. I met the author in 2016 at Harvard University when he was starting the research for the book, and during his classes, he was already providing glimpses of the ideas that would shape it afterwards. Firstly, the book recognises the powerful effects originated by digital disruption. Opportunities can be created for new entrants, and threats can be placed upon incumbent companies. The book focuses on the latter kind of companies: large organizations that like Goliath need to find new ways to cope with a competition that resemble new "Davids": lean, agile organizations such as start-ups that having nothing to lose, having everything to win in the new territories created by digital disruption. With this competitive attitude, these new players pressurize established, risk-averse, slower companies, so in this sense this a must-read book for leaders of large and medium-sized companies to strategize the steps required to change their organizations. For the academic audience, it is an excellent textbook for digital business courses, and marketing and communications as well.
With digital disruption comes the situation where the "winner takes it all": customers' habits change, new markets are created, and traditional markets disappear. For Gupta, incumbent layers need a roadmap, because several things can go wrong not because they do not embrace digital, but because they do not have a structured way to take the organization (and their employees, current businesses, providers and customers) to the unchartered waters of digital transformation. After establishing the case for a roadmap, Gupta proceeds to propose a framework that seeks to "reinvent the business" with four key components:
1 Reimagining Your Business
2. Reevaluating Your Value Chain
3. Reconnecting with Your Customers
4. Rebuilding Your Organization
The author takes us through each component of the framework in four parts and 12 sub- components, providing a very didactic and elegant reading experience. Though his ideas are rooted in the traditional empirical and strategic perspective of a business school's lecturer and management consultant, Gupta´s prose is not plagued with the clichés and jargon normally found on books on the subject of digital transformation, which is highly appreciated. Graphs, models and a myriad of examples are used to illustrate his points.
Ironically for a book that aims to shed light in the future of business, the framework starts with Reimage Your Business quoting Theodore Levitt, a Harvard Business School lecturer whose ideas on Marketing in the '60s has influenced the discipline since then. We are reminded of Levitt´s seminal essay Marketing Myopia that teased read-ers with a simple question: "What business are you really in?". This is probably one of the most difficult, philosophical, and overlooked question to be addressed by companies' management. Often, leaders in a company disagree vehemently about the answer, and employees do not have a clear view of it, either. Obviously, if a company does not have clarity on this point, it is very difficult to succeed in the current situation of affairs, where digital technologies are creating changes at a tectonic level in the competitive arena.
Taking Amazon as a paradigmatic example, Gupta demonstrates that what was once the largest bookseller in the world" in 1995 became a conglomerate of different business that extracted synergy of different customer relationships and technologies. The key advice here is that companies need to define their businesses (their scope) around customers, not products or customers. To do that, data, technology and relationships become critical assets of a company. Starting from this perspective, the heart of a company – its business model – is naturally impacted. The business model defines the way afirm creates, delivers, and captures values, and through some interesting examples in different industries, the author indicates that a transition is happening, and companies are starting to offer a new kind of product, described as "productas- a-service". In an economy of intangibles, it seems a logical step for companies to rely on services for their growth and profitability. Easier said than done, though, because this new orientation – which is at the heart of the so-called "digital transformation" – entails great difficulties: only 14% of 1,733 business executives polled in the McKinsey Global Survey (September 2018) said that their digital transformation efforts have sustained performance improvements. Worst of all, only 3% per cent reported complete success at sustaining change.
The first part, which creates the mindset for the following three, finishes with the idea of platforms and ecosystems. The externalities created by digital technology have reduced the transaction costs of goods and services, among other effects. The idea of digital platforms is not new and entirely related to digital technologies: MIT´s Cusumano and co-authors Gawer and Yoffle traced them back in a recent book (The Business of Platforms, published by Harper Business) to industries platforms, which are "foundation products or technologies that various firms can build upon to create new products and services or transactions". However, what we see now it is an explosion of platforms facilitated by digital technologies, that could be of three types: a) focused on transactions, where the platform serves as an intermediary for direct exchange or transactions, subject to network effects; or b) focused on innovations, where the platforms serves as a technological foundation upon which other firms develop complementary innovation; c) of hybrid, working both as an intermediary and a catalytic for innovation.
When expanded and combined, this "platform revolution" creates business ecosystems, in which companies co-evolve capabilities around innovations, and work cooperatively and competitively at the same time (an idea already expressed by James Moore in a 1993 Harvard Business Review article). Gupta highlights here the role of Open Innovation and provides interesting pointers on how to do it in a firm.
The topic of Open Innovation returns later, and it is central to the book´s Part Two Revaluating Your Value Chain), which is built around key stakeholders of the firm: providers and business partners. This part also covers what is operational excellence in today´s world, and the reader learns more about new trends such as Industry 4.0, Smart Factory, Omnichannel Strategy, and Digital Supply Chains. These chapters are dedicated to the "hard" parts of the digital transformation, with its operational-oriented examples. Despite not sounding so "strategic" like other parts, this is possibly the best of the four parts of the book. The lessons here are fundamental to understand some "backstage" aspects of the digital strategy that in reality make it possible to deliver the value of digital innovations to customers.
Part Three is titled Reconnect with Your Customers and naturally appeals more to marketeers and communicators researchers and professionals as it focuses on branding, growth and trategies of demand generation. As an example, Gupta refers to BBVA Compass, a subsidiary of the Span-ish bank in the US market, and how the brand created its customer-acquisition campaign and allocate its marketing budget. Gupta also introduces us to the "The 200-20 Rule", an interesting insight that underscores the importance of acquiring the right customers.
The chapters on engaging and measuring the marketing investment complements Part Three, and covers what the author calls "Beyond Advertising". Considering that digital products have almost zero marginal cost of production and distribution, a powerful strategy to create new markets is "freemium", in which a basic version of a product is given away for free, and users pay only for upgrading to an advanced version. Adobe, the New York Times, Hulu, Dropbox, LinkedIn, Skype and YouTube are examples of the implementation of this strategy. Another interesting insight brought in this part is "Moment- Based Marketing", which are marketing strategies that "focus less on consumer demographics, interests, or even past purchases than they do on the moment and the context", in other words, highly responsive, real-time marketing. Finally, Pareto´s Law (also known as the 80-20 rule) is updated to the 200-20 Rule, where 20 percent of the customers provide almost 200 percent of the profit, a rule that underscore the importance of acquiring and retaining the right customers.
Part Four, Rebuild Your Organization, is an excellent conclusion for the framework as it covers the steps needed to manage the digital transition from within, i.e. building the future of the firm with the same organization that you have – just transformed by the consequences of what the firm has set in motion in the previous steps. It is basically about Change Management, and it is personally my main area of interest.
The period of transition to a new, digitally driven organization, is normally "turbulent", according to the author. The given example – Adobe – is fascinating and illustrates the price to pay during these times for certain companies. In the case of Adobe, the company's net income faced a steep decline during 2013-2014, and level remained below those of the pre-transition period through 2015, before started to skyrocket.
This part demonstrates how designing an organization for innovation should be a priority, and many companies do this by starting an independent unit to spur innovation in a legacy company (Telefonica has used this approach). Gupta warns us, however, that this is analogue to launching a speedboat to turn around a large ship: "often the speedboat takes off but does little to change the course of the ship". How to break inertia? Mastercard' s president and CEO, Ajay Banga, prefers a different approach, using "landing docks" as a way for the large organization to benefit from the agility of the smaller unit. By creating this mechanism of constant flow of information, Banga ensures that everyone in the organization is completely aligned with the vision and strategy of the company and its operating rules and consequently accelerates the innovation. Another example given in the book is the transformation underway at Goldman Sachs, a major player in an industry that suffered technological disruption at unprecedented levels, and now operates under the label of "fintech".
Chapter 12 is the book's epilogue and addresses one of the most overlooked aspects of digital transformations in my opinion, which is the human element. Recognizing that data is the new oil, Gupta warns the reader about the need to "develop the skills to refine and extract value from this important resource". It is a chapter devoted to data analytics, machine learning and artificial intelligence (at the introductory level), and on talent: how to recruit, develop and manage people to face this overwhelming amount of change in the way companies are doing business. It is a short chapter, and I sense, again, that the dramatic aspects related to the adaptation of the workforce to the new requirements of companies and digital transformation should deserve more pages and depth but perhaps this is a subject for a whole new book, not this one, which works perfectly as a solid overview and guide of key strategic elements that need to be considered by companies nowadays to face the digital challenge.